During World War II Hartwig did drafting work for Bell Telephone Laboratories (1942-45) and technical illustrating for the Jordanoff Aviation Corp (1943-45). During those years she also had her first solo show at the Clay Club in New York. The show brought together her talents as a sculptor, a naturalist, and a ceramist. It included 29 works, ranging from abstract and figurative pieces to her beloved nature forms, including animals (frog, mouse, hen), insects (flea, louse, moth), and even a glazed terra cotta bird bath.
In 1945 Hartwig won the National Association of Women Artists' Anna Hyatt Huntington Prize. That same year she also became a sculpture instructor at Cooper Union in New York and the Montclair Art Museum in New Jersey. In addition, she completed an important work for the architect Kenneth B. Norton: a "Family Group" for the Continental Casualties Building on Williams St. in downtown Manhattan. For that commission Hartwig created an 8-foot-high bas-relief of a mother, father, and child, which was cast in aluminum and installed over the entranceway to the building.
By 1947 Hartwig was ready to present a second solo show. This exhibit featured an impressive set of 27 works, again including her signature mix of animal and figurative pieces. By then her works were owned by the Newark Museum, Detroit Institute of Arts, and private collections, and had been shown at such venues as the Pennsylvania Academy of the Fine Arts, Denver Art Museum, Chicago Art Institute, Nebraska Art Association, and National Academy.
In 1951 Cleo Hartwig married the Russian sculptor, Vincent Glinsky. Their son, Albert Glinsky, was born the following year. The uniquely compatible husband-wife partnership of Hartwig and Glinsky was documented by Enid Bell in a feature article published in American Artists magazine.
The 1960s saw Hartwig exhibiting in unique venues such as the 1964 New York World's Fair and outdoor shows at Bryant Park in midtown Manhattan. Reproductions of her works were offered for sale by Sculpture Collectors, Collectors Guild, and Alva Museum Replicas, which also commissioned her to create new works for reproduction. Throughout the 1970s and 1980s she continued to exhibit regularly in group shows, in addition to solo exhibitions at the Montclair Art Museum, Harmon-Meek Gallery (FL), the Sculpture Center, and SUNY Plattsburgh.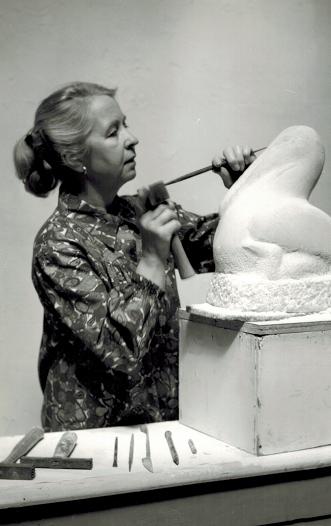 American Artist Magazine (1968), described Hartwig's, "unhurried
process of reduction with bush hammers, chisels, and rasps. She
prefers this equipment to power tools which, because of their
mechanical impetus, are alien to contemplation, tending to propel the
user into the fatality of doing too much too soon." Above, the artist
working on "Nesting Pelican" (Tennessee Marble).